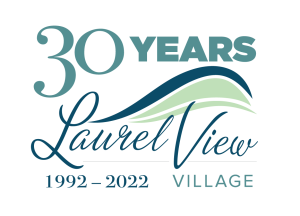 Laurel View Village was founded on a Christian commitment of service to others.

 
Our mission is motivated by Christ's love; we strive to foster a community that provides opportunities to live with purpose, vibrancy, and independence. Laurel View Village began as a response to the need in the community for additional services for senior citizens. Eight Mennonite Churches commissioned a committee in 1981 to formulate ideas and begin a process toward meeting those needs.
It was determined at the time to begin to develop a retirement community that would offer a variety of services, including independent residential living options, personal care, and health care components. In 1983, a Pennsylvania non-profit corporation, Allegheny Christian Ministries, Inc. (ACMI), was formed, which enlarged the vision beyond denominational boundaries to a community-based interdenominational Christian organization that builds upon the historical cooperation of the churches in the Conemaugh Township (Somerset County) area. The name for the community was chosen because of the spectacular view from the site of the Laurel Mountains, especially the famous Conemaugh Gap.
In 1991 Lee Health Services, through its Johnstown Medical Development Corporation, joined forces with Allegheny Christian Ministries, Inc., to create a strong team of experienced professionals and a solid community foundation for Laurel View Village. Laurel View Village officially began operations on November 24, 1992. Since then, our family of residents and staff in our Health Care, Personal Care Centers, and Independent Living have grown significantly.
The commitment to provide quality and cost-effective services to the senior population still drives the interdenominational board of directors. There is a strong desire to enhance the variety of services offered in this area. Laurel View Village is committed to quality care with a touch of elegance that will make a living here an attractive option for many residents of southwestern Pennsylvania and beyond.
Explore some of our history
Click  a thumbnail image below to expand.
VISION, MISSION, VALUES & PURPOSE
Our Vision
Inspire each person, know their story, and serve in love.
Our Mission
Motivated by Christ's love, we strive to foster a community that provides opportunities to live with purpose, vibrancy, and independence.

Our Core Values
Community· Integrity · Excellence · Financial Sustainability · Forward Thinking
Our Purpose
We Do Community. Even Better. We will be resilient, supportive, and never give up on each other. We will help each person to grow in faith and live with purpose to become their best self. Because of this, and our desire to share the love of Christ, we will find ways to look beyond ourselves, serve well and build a community of people that inspires.